Why You Need Link Building
Google ranks websites based on a highly complicated algorithm. One crucial component of this algorithm is trust signals — that is, links. For some businesses, gaining these links automatically is very difficult. Sometimes, it takes a manual request for a link, or a piece of content with a link in it, to get those trust signals. The process of creating those links is what we call link building.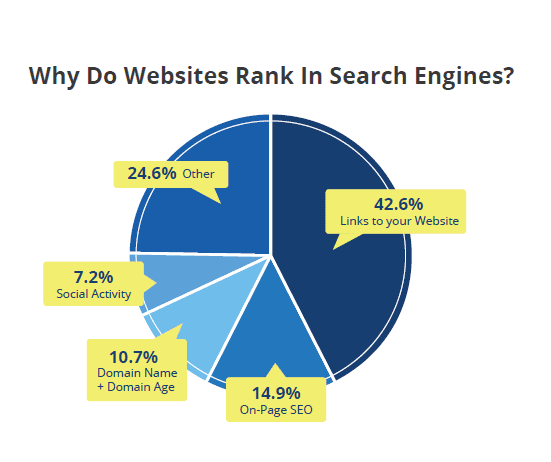 To put it simply, the more links you earn from relevant, high authority websites, the better it will rank. And as a leading link building agency,
Seo Digital Solutions
knows what it takes to increase your chances of getting to the top of the rankings. Links are just a piece of the puzzle, but they are undoubtedly an important one.
SEO Digital Solutions Link Building Plans
Seo Digital Solutions offers a Pay-for-Performance link building plan. We offer only white hat link building services, meaning your links are earned through valid, merit-based methods and highly targeted, relevant outreach. We do not engage in black hat or outdated methods like link buying, comment links, or directories.
We employ honest, white hat strategies so you can be sure your links will stand up to scrutiny and future updates to search engine algorithms. We design each link building plan for quality gains, meaning you won't have to worry about losing links the next time search engines crack down on corner-cutting, dishonest methods. In short, your link building package is designed for the long haul.
Pay-for-Performance Link Building is a custom service where you only pay for the links that earns through content creation, promotion, and marketing. Top quality links from high authority sites, including .edu and .gov sites, are the focus of this campaign. These link building plans indicate your site as a quality establishment since professional, reliable domains are linking to you.
Pay-For-Performance Link Campaign
This unique pay-for-performance link building pricing plan allows link building experts to target high-value sites for link acquisition. We work with our clients to create unique strategies designed to attract links from top sites around the web.
| Features | £500/Link | £1,000/Link | £2,000/Link |
| --- | --- | --- | --- |
| DA Range (Calculated on link published date) | DA 21-41 | DA 42-57 | DA 58 and above |
| Competitor Link Targeting | | | |
| EDU/GOV links (any DA qualifies) | | | |
| Minimum domain social shares | 150+ | 250+ | 500+ |
| Customized Link Acquisition Strategy | | | |
| Contextual links | | | |
| Minimum link longevity or will be replaced (rarely happens) | 1 year | 1 year | 1 year |
| Dedicated link building/outreach expert | | | |
| Online project management schedule | | | |
| Transparent reporting | | | |
| Keyword research | | | |
| AdWords keyword research | | | |
| Wordtracker keyword analysis | | | |
| Keyword competitiveness report | | | |
| Keyword mapping | | | |
| Industry backlink analysis | | | |
| Google Analytics setup w/ conversion tracking | | | |
| Ongoing monthly traffic & goal reporting | | | |
| Keyword rank checker access (Updates weekly) | | | |
| Social media monitoring interface access | | | |
| Competitor intelligence report | | | |
| Blog review & RSS submissions | | | |
| Current backlink analysis | | | |
| On-page SEO consultation | | | |
| 1 Hour Consultation | | | |
| Monthly Link Reporting | | | |
| Monthly Link Building Investment: | CUSTOM | CUSTOM | CUSTOM |
| Need more information? | Sign Up | Sign Up | Sign Up |
Please call us for authority link building or custom pay-for-performance link building strategies. Our link acquisition experts can work with you to come up with a customiSed plan to propel you to reach your marketing goals. For clients who desire precise relevance in niche industries, the cost per link is double the price listed on the website.
How Do I Choose A Link Building Agency
Because there is no link building pricing standard, it can be hard to know whether or not you are getting a good deal when you contact an Internet marketing or link building company. And, obviously, you want the best price for your business. It's for these reasons that we suggest asking some or all of the following questions:
Approximately how many links will be built for my site quarterly?
What will the minimum domain authority of the websites linking mine be?
What kinds of websites do you pursue for links?
Where have you gained links before? Are there any sites that you are really proud of?
What methods do you use to attract additional links?
How will your link building efforts complement my online marketing plan?
By asking these questions, you'll be able to better evaluate the kind of service that the company you're considering working with will be able to provide. If it feels like there is a mismatch between the level of effort and the price they are charging, it may be best to move on to a different firm.
How SEO Digital Solutions Determines Pricing
We break our link building pricing into two unique services. Each package has link building pricing based on the resources and strategies required to build an effective campaign. Regardless of what you choose, though, our premium link building strategies and tactics are sure to get you the results that you want.
For example, the link building pricing of the most aggressive plan includes pay-for-performance pricing, and includes tiered and customized link acquisition strategies designed to maximize the link power you earn. Please see the charts above for full details on our link building pricing. As one of the top link building companies in the industry, we want to make sure you have a plan that best works for your needs.